Churches
Community Fellowship
701 South Oak Lane
Blue Grass, IA 52726
1.563.381.4947

Presbyterian
337 West Lotte Street
Blue Grass, IA 52726
1.563.381.2660

St. Andrews Catholic
333 West Lotte Street
Blue Grass, IA 52726
1.563.381.1363
First Baptist Church
14542 61st Avenue
Blue Grass, IA 52726
1.563.343.7420
Utilities
Mediacom
1.800.874.2924

MidAmerican Energy
1.888.427.5632

AT&T 1-866-713-9913
https://www.attinternetservice.com/espanol/
CenturyLink 1-800-829-3882
http://www.centurylinkinternetservice.com
https://www.centurylinkquote.com/customer-service
http://bluegrassia.com/index.php?option=com_content&view=article&id=19&Itemid=151
CITY HALL
If you have questions on policies and/or procedures, call City Hall, 381-4700 our friendly staff will assist you. Office hours are Monday through Friday 7:00 a.m. to 4:30 p.m.
Due to a high volume of business taking place at City Hall - all business transactions must be completed by 4:15 p.m. No business transactions will be taken after 4:15 p.m. (this excludes utility payments). If you are signing up for sewer or garbage service, please call City Hall to make an appointment. The application process may take approximately 15-20 minutes as City staff will review with you the utility billing process, city policies, etc.
City provided utilities:
Sewer and garbage bills are due on or before the fifteenth day of every month, if the 15th falls on a weekend or holiday, payment shall be due and payable on the first business day after the 15th. A $5.00 late charge shall be added to the bill if payment is not received. Payments can be made at City Hall in person, by mail, or deposited in the drop box in the City Hall parking lot. The City also offers ACH payments at no additional costs, applications are at City Hall to sign up. After payment has been delinquent for two consecutive months, the City shall send a written notice of discontinuance of water service by ordinary mail to the account holder, which shall include an additional $5.00 delinquent letter charge, advising the customer that they have 12 more days to pay or service will be disconnected and a $100.00 fee will be charged. Water service will not be disconnected during the winter months beginning November 1st through April 30th, at which time if a customer's account is delinquent May 1st, their service will be disconnected. For customers that are delinquent during the winter months, November 1st through April 30th, shall be assessed an additional $25.00 a month. The delinquent amount may be paid by cash, money order, cashier's check or personal checks unless the customer is in violation of Section 13.36.035 Returned Check Procedure.
Garbage and Recycling Service:
The City of Blue Grass has contracted their garbage and recycling services with Republic Services for a period of 10 years beginning November 1, 2011 through June 30, 2022. Garbage must be curbside by 7:00 a.m. every Monday and recycling must be curbside by 7:00 a.m. every other Monday. You may stop at City Hall to get a recycling calendar or you may download off the City's website. All carts must be provided by Republic Services. Holidays observed: New Year's Day, Memorial Day, July 4th, Labor Day, Thanksgiving Day and Christmas Day. If the Holiday falls on a Monday, garbage/recycling waste will be picked up on the following Tuesday. If you have a missed pickup, please call City Hall. You may also contact City Hall with any unanswered questions or concerns.
Sewer Rates:
All sewer service charges shall be based upon water usage, as determined by monthly water meter readings. The rates for sewer service charges shall be as follows:

0 - 2,500 (Gallons Used) = $22.69
2,501 & Over (Gallons Used) = $22.69 plus $4.26 per 1,000 gallons or fraction thereof in excess of 2,500 gallons

JULY 1ST EVERY YEAR THEREAFTER – An adjustment, if any, shall be determined by the City Council on or before July 1st of each year.

8.14.180 Service Charges and Cost of Collection Stickers.
The service charge for collecting and disposing of refuse, and recyclable materials effective July 1, 2018 shall be Thirteen Dollars and Fifty Cents ($13.50) per month each dwelling unit; July 1, 2019 shall be Fourteen Dollars ($15.00) per month each dwelling unit; July 1, 2020 shall be Fourteen Dollars and fifty cents ($14.50) per month each dwelling unit and July 1, 2021 shall be Fifteen Dollars ($15.00) per month for each dwelling unit. An adjustment, if any, shall be determined by the City Council prior to July 1, 2022. Yard Waste collection stickers shall be charged at the current rate. The City Council shall annually set the monthly service charge for each dwelling unit for collecting and disposing of refuse and recyclable materials, and such service charges shall be at a rate comparable to its actual costs.
Leaves and Yard Waste
Leaves and yard waste will be picked up every Monday curbside 7:00 a.m. during the months of April through November. Residents are required to call Republic Services to have their yard waste picked up at their residents. Please call (563) 332-0050 by noon the Friday prior to the requested Monday pickup date to be placed on a list. Waste must be placed in yard/leaf paper bio-degradable brown kraft bags only with a yard waste sticker attached. Yard waste stickers are available at City Hall for $3.00 each. During the Fall free yard waste pickup, residents are not required to be placed on a list.
NOTICE: NEW SUMMER HOURS FOR GARBAGE & RECYCLING PICKUP
Beginning the month of July through September (Labor Day), all garbage & recycling collection will begin at 6:00 a.m.
Spring & Fall Clean Up
The City will designate a special cleanup day "free" to residents within the city limits of Blue Grass only to dispose of unwanted items in the Spring and Fall.
Household Hazardous Material
Household Hazardous Material is accepted year-round at no charge for all Scott County residents located at 5640 Carey Avenue – Davenport, IA Phone: (563) 381-1423
No appointment necessary.
Electronic Demanufacturing Facility
Electronic Ewaste is accepted year-round at no charge for all Scott County residents located at 1048 E. 59th Street – Davenport, IA Phone: (563) 823-0119
No appointment necessary.
DISPOSING OF "SHARPS" (SYRINGES)
Public Works has found syringes in the pits at the lift station on several occasions. This not only creates a safety hazard for the Public Works Department, but for the entire community. The City's waste hauler, Republic Services, will no longer pick up sharps (syringes/needles). Residents must dispose of their sharps at the Waste Commission of Scott County located at 11555 110th Avenue (County Road Y48), Davenport, Iowa 52804. You may also contact them by calling (563) 381-1300. Sharps containers are available at the Scott County Health Department and the Waste Commission of Scott County. You may also make your own sharps container by using a detergent bottle and secure by taping the lid and marking the bottle clearly with the words "SHARPS" and drop off at the Waste Commission of Scott County.
Please do not dispose of any syringes, pills or any other hazardous items by flushing them down your toilet.
Thank you for your cooperation.
8.14.140 Refuse Containers ─ Location for and penalty.
Residents are to return their refuse and recycling containers onto their premises and remove from the street and/or alley within 24 hours of the designated collection day or the Residents shall be issued a municipal infraction and upon conviction shall be subject to a penalty of $25.00. This includes removal of refuge and recycling containers from all sidewalks, boulevards, curbs and rights of way. Residents
Sign up now for"ACH Direct Payment" to pay your utility bill…
You may now sign up for ACH direct payment to pay your utility bill at no charge. The ACH processing allows you to electronically debit your checking or savings account to pay your utility bill. A form is available at City Hall and/or on the City's website. Residents must submit a voided check at the time of sign up. Payments will be automatically taken out on the 15th of each month. You will still receive a monthly utility bill which will indicate the automatic payment amount to be deducted on your designated account on the 15th day (or, if a on a weekend or legal Holiday, the first banking business day following the 15th).
"NSF Charges"
13.36.035 Returned Check Procedure
If a customer's check is dishonored (returned unpaid) by the bank upon which it was drawn, there will be a $30.00 processing fee each time the check is returned.
MOVING ????IMPORTANT: Please notify City Hall if you are moving in order to process your final bill.
VACATIONING RESIDENTS: Just a reminder… When residents leave their residence for two or more months, they must give City Hall a 10 day advance notice in order to eliminate a minimum charge. A form must be filled out in order to discontinue service. Residents are responsible to notify City Hall upon returning.
Post Office Box
If you receive your mail at a post office box, and your utility bill is currently addressed to your residence or place of business, please notify City Hall, or mark the correction on your utility bill stub that is returned with your payment.
Police Department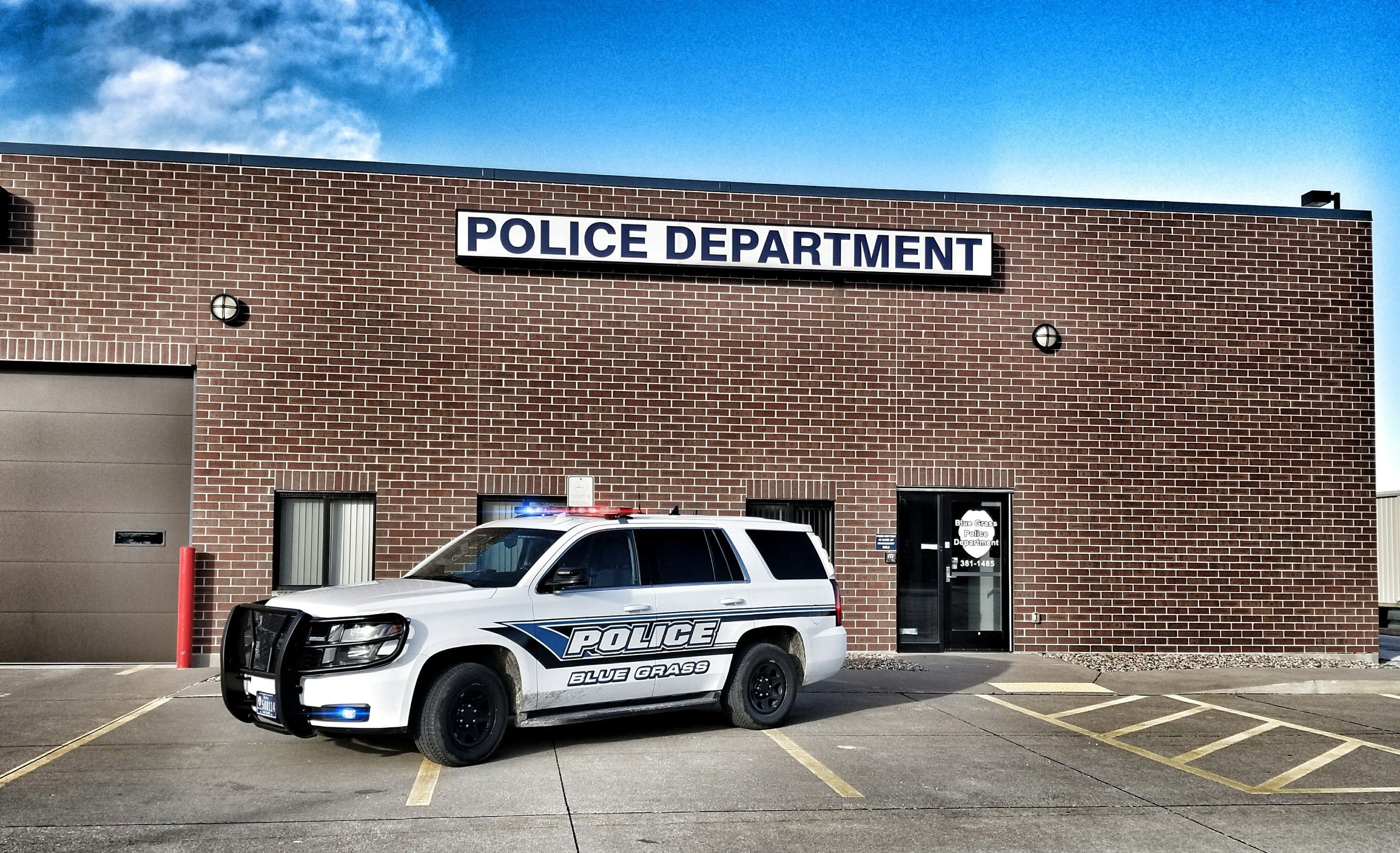 For all NON-EMERGENCY and EMERGECY calls: Please call "911" Residents are urged to call "911" as you will be in direct contact with the Scott County Dispatch Center that can assist you (there is no longer a non-emergency contact number).
Emergency Call Box
The City's Public Safety Building has an emergency "call box" on the exterior portion of the building to assist those in need. All calls will automatically be in direct contact with the Scott County Emergency Dispatch Center.
606 West Mayne Street Blue Grass, IA 52726
Emergency & Non Emergency: 911
Office/Answering Machine: (563) 381-1485 Fax: (563) 381-2157
Welcome!
On behalf of all of us at the Blue Grass Police Department, I would like to personally welcome you to our department's official website. It's our hope that this site will be informative and provide you with greater access and understanding of the functions of the Blue Grass Police Department.
We are always working to update our web page with current information that all members of the community will find helpful and important regarding the functions of the Blue Grass Police. Our web site is just one way of showing you the sense of pride, professionalism, and dedication that the members of this department strive to achieve every day.
It's our belief that while the Blue Grass Police Department's mission was built upon the foundation of "to serve and protect" the public, we understand it's also our obligation to keep you informed of the various changes occurring within our Department, and the people and issues that affect law enforcement in Iowa.
Due to the nature of the job, police officers must often perform tasks or duties which may be perceived as negative or unpopular. Our officers perform these duties fairly, impartially, honestly, and with a positive attitude. This approach has been rewarded by consistently having one of the lowest overall crime rates in the State as well as being one of the cleanest cities. The efforts of our officers are complemented by the assistance of the citizens of Blue Grass, who are very cooperative and proud of the clean and safe environment which they have come to expect and enjoy.
The members of the Blue Grass Police Department realize that our greatest asset is our personnel and our greatest strength is our partnership with the community. This website is prepared with those sentiments in mind, always working to better serve, and provide safety and service for everyone who lives, works, or visits the City of Blue Grass, Iowa. Your thoughts, comments and observations are not only welcome, but also are very important to us. Thanks for viewing our web page and we look forward to serving you in the future.
Yours in Service
Meet Your Blue Grass Police Officers:
Sergeant Bob Guinn:
Sergeant Guinn comes to us as a prior patrol sergeant from Cordova Illinois who most recently worked at the Wilton Iowa Police Department. Among various police departments in Rock Island County, he began his interest in law enforcement when he was hired with the Milan Illinois Police Auxillary in 1994. He left as a Corporal in 1999. He left the Auxillary to work as a police officer in Annawan Illinois. His carrer led him to work at many other police departments to include Carbon Cliff Illinois Police Department, Cordova Illinois Police Department, Hillsdale Illinois Police Department, Wilton Iowa Police Department. He also worked as the Parks Ambassador for the City of Davenport until he was hired on with Blue Grass Police Department. Officer Guinn has served as a police officer for total of 15 years.
Officer Guinn started with the Blue Grass Police Department on July 1st, 2015 as a part time police officer. On October 17th, 2016 Officer Guinn was promoted to a full-time status.
Besides the many patrol functions of a police officer, Officer Guinn specializes in crimes against children and has received dedicated training in missing and exploited children investigations. Officer Guinn's dedication to serving the people of Blue Grass and the mission of the police department continues to be his top priority.
Fire
Blue Grass Volunteer Fire Department

"Proud to Serve. Serve to be Proud."

Blue Grass Volunteer Fire Department
606 W. Mayne Street
Blue Grass, IA 52726

Emergency: 911
Non-emergency: 1-563-381-1234
Fax: 1-563-381-4652

The volunteer fire department total roster as of 07-01-10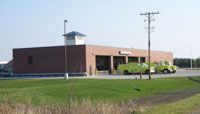 Blue Grass Fire Department Roster "2020"
Brian Seamer, Chief - 20 years of service
Brad Schutte, Assistant Chief - 15 years of service
Jon Grunder, Captain - 22 years of service
Scott Powell, Captain, 20 years of service
Bob Downing, Captain - 15 years of service
Eric Morrison, Captain - 10 years of service
Jason Verschoore, Captain - 15 years of service
Chad Lofgren - Lieutenant - 12 years of service
Jake Freeman, Lieutenant - 11 years of service
Brandon Schadt - Lieutenant - 11 years of service
Spencer Ripperger - Lieutenant - 9 years of service
Lee Schmidt, Firefighter - 15 years of service
Justin Kinzer, Firefighter - 9 years of service
Sean Frantz, Firefighter - 6 years of service
CJ Downing, Firefighter - 5 years of service
Russ Johnson, Firefighter - 3 years of service
Greg Harrison, Firefighter - 3 years of service
Kyle Davis, Firefighter
Spencer Werthmannn, Firefighter
Jeff Oswald, Firefighter
Courtney Oswald, Firefighter

Fire Department Services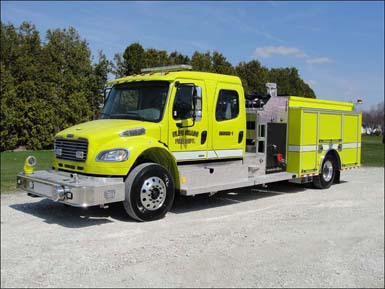 BGFD responds to fire, EMS, HAZ MAT and rescue calls. Calls average between 300 per year.
Approximately 65% are EMS calls.

BGFD is now working out of a state of the art building that houses 7 pieces of equipment, 3 pumpers (750 gpm, 1,250 gpm and 1,500 gpm), 2 tankers with 500 gpm pto pumps (1,500 gal. and 3,000 gal. capacity), a brush truck, a rescue truck and a command vehicle. Rescue equipment includes the Jaws of Life, shears, cutting shears, rams, air bags and numerous other items to perform heavy duty rescue. The Department also carries an AED in each truck and all medically qualified personnel are qualified in their operation. All members are certified in CPR.

BGFD serves a 50-square mile area with approximately 1650 residences. This includes a 300+ trailer park and numerous housing additions outside the city limits. If the BGFD responded to a call that required all trucks they could respond with approximately 7,000 gallons of water.

BGFD has one training and one business meeting per month. It conducts most of its training in-house. All new personnel are required to acquire their fire fighter I training within their first year on the Department.

BGFD belongs to the Scott County Fire Chief's Association, Scott County EMS Association, Iowa Firemen's Association, Iowa Association of Arson Investigators and the Iowa Chief's Association.